Akhilesh Sapre, PhD, Eminent Indian Musician and Sitar Artist.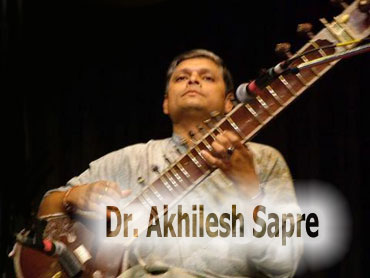 Dr. Akhilesh Sapre, PhD, Retd. Professor, Govt. MKB College, Jabalpur. Eminent Emerging Sitarist of India from Madhya Pradesh from Imdadkhani Gharana. Akhilesh was born to Shri Vanmali Sapre and Smt. Padmaja Sapre at Jabalpur, in an enlightened maharashtrian Brahmin family. Over four decades he is residing at Jabalpur. Although none took Music professionally in his family, but Music, specially interest in Sitar is continuing traditionally for many generations. Maternal grandfather of his father had taken lessons from late "Ustad Murad Khan" of Indore, the famous Beenkar of Kirana Gharana, established by great "Bande Ali Khan".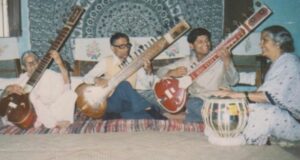 With Excellent academic record and a Masters in Music with Merit first position from Khairagarh University. He also holds a PhD in Music, and has been a Research Guide to many PhD students under various Universities of Madhya Pradesh. He began primary training in Sitar under the guidance of his father Shri Vanmali Sapre. Later received guidance from eminent Musicians like Late. Mr. B.T. Ranade at Jabalpur. Dr. Akhilesh Sapre received Professional Guidance from Pt. Bimalendu Mukherjee, (Imdadkhani Gharana), a very well known Sitarist of India and Rtd. Vice Chancellor of Indira Kala Sangeet Vishwavidhyala – Khairagarh, for the many years.
Akhilesh Sapre is a well known Indian classical Instrumentalist (Sitar) from Madhya Pradesh. He has performed at many places in India like Delhi, Cuttuck, Ahmedabad, Madras, Indore, Bhopal, Meherabad and many more, on invitations of various NGO's, Kalaparishad, Sankalp etc, and abroad Including Singapore, Thailand, Japan and East-Asian region. He was the only Sitarist to Perform with the Bangkok Symphony orchestra in the year 2001. Also he has performed at the invitation of Rotary Club of Thailand, Indo-Thai Chamber of Commerce, at Bangkok.
---
Dr. Akhilesh Sapre
9, Vivekanand Nagar, Yadav Colony,
Jabalpur. PIN-482002
Telephone.: 0761-2416675
Mobile.: +91-98273-61237 (Whatsapp)
Email ID: akhileshsapre@gmail.com
---